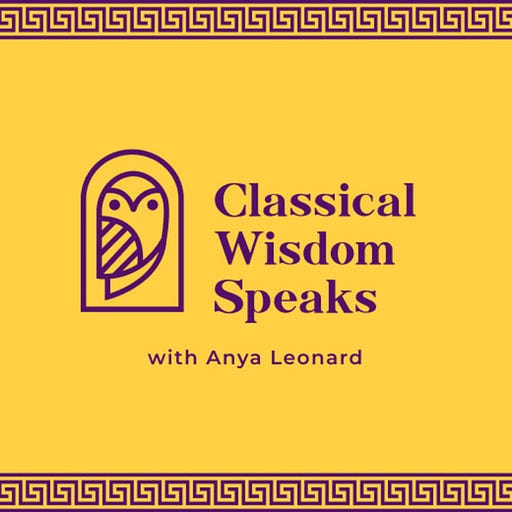 Sep 29, 2020 • 23M
Stoicism and Catastrophe with Professor A.A. Long
Classical Wisdom Speaks aims to bring ancient wisdom to modern minds... via podcasts! You can watch all our podcasts on our youtube channel here: https://www.youtube.com/c/classicalwisdom Join host Anya Leonard as she speaks with eminent professors, famed authors and controversial intellectuals about the Classics. Covering history, mythology, music, philosophy and more!
How can ancient philosophy help us deal with natural disasters? Are we too reliant on technology? And can anyone truly understand stoicism without suffering?

These are the questions we discuss with this week's special guest, Dr. Anthony Arthur Long, Chancellor's Professor Emeritus of Classics at the University of California, Berkeley. Professor Long is often credited with spearheading the revived interest in Stoicism as well as other ancient philosophies and has written several books on the topic, including How to be Free: An Ancient Guide to the Stoic Life.

We discuss his recent exploration on Natural Catastrophe in Greek and Roman Philosophy and what ancient philosophies can teach us in the here and now.

You can listen to Professor A.A. Long LIVE in Classical Wisdom's upcoming Symposium 2020: Power and Politics, taking place October 24 - 25, 2020.

You can purchase early bird tickets, as well as an exclusive Mediterranean Wine Collection, carefully selected for the event, HERE: http://www.bonnerwine.club/CWW

Please Note: There is limited availability for the wine, so please act fast!


For more information about Classical Wisdom's Podcast Classical Wisdom Speaks, please check out our website at: http://classicalwisdom.com

~

Professor Long is presently completing two books: one is a study of Plotinus's essay (Ennead II.4) On Matter for Parmenides Publishing, and the other, along with Margaret Graver, is a selection of fifty of Seneca's Moral Letters, for Chicago University Press, based upon their previous book, Seneca. Letters on Ethics, in which they translate all 124 of the Letters.