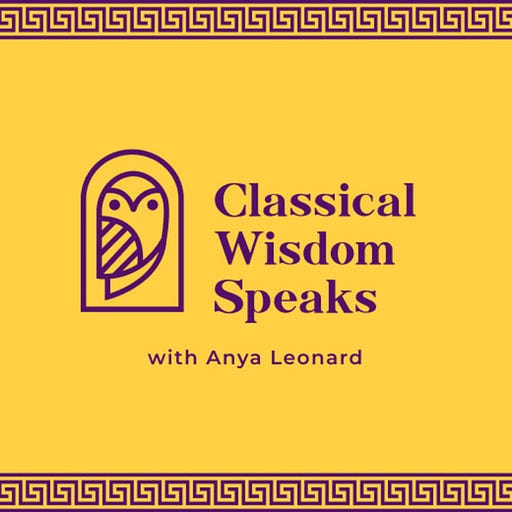 Aug 4, 2022 • 39M
How have Plato and Socrates influenced Stoicism?
With Georgetown Professor Nancy Sherman
Classical Wisdom Speaks aims to bring ancient wisdom to modern minds... via podcasts! You can watch all our podcasts on our youtube channel here: https://www.youtube.com/c/classicalwisdom Join host Anya Leonard as she speaks with eminent professors, famed authors and controversial intellectuals about the Classics. Covering history, mythology, music, philosophy and more!
Many people don't see the connection between the key ancient philosophers, Plato, Socrates and Aristotle and the growing trend of Stoicism - but how was Stoicism influenced by these earlier thinkers?
Nancy Sherman, who holds the rank of a distinguished University Professor at Georgetown university, and has been elected as a member of the American Academy of Arts & Sciences, discusses the practical tools of Stoicism, how its been influenced by previous philosophers as well as the NEED for Plato.
Nancy Sherman is also a New York Times Notable Author and her most recent book is Stoic Wisdom: Ancient Lessons for Modern Resilience... she spoke LIVE on the topic of "Aristotle and the Stoics on Flourishing" this May 21st, 2022 at the inaugural conference for the Plato's Academy Centre.
Co-hosted by Classical Wisdom, all donations will go to the reconstruction of Plato's Academy in Athens.
You can get Nancy's book, Stoic Wisdom, Here: https://www.amazon.com/Stoic-Wisdom-Ancient-Lessons-Resilience/dp/0197501834