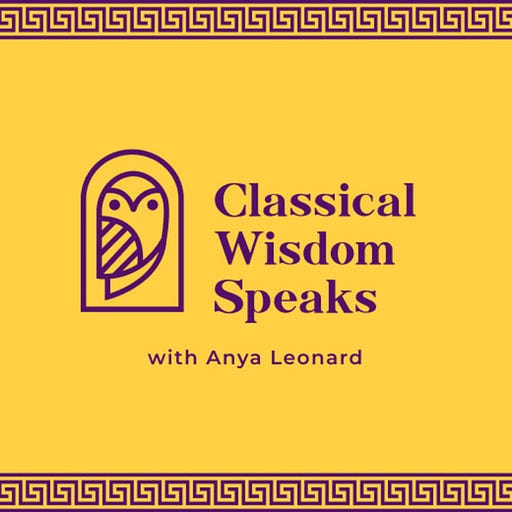 Mar 29, 2021 • 1HR 19M
What is the future of the humanities? Discussing The Battle of the Classics.
Classical Wisdom Speaks aims to bring ancient wisdom to modern minds... via podcasts! You can watch all our podcasts on our youtube channel here: https://www.youtube.com/c/classicalwisdom Join host Anya Leonard as she speaks with eminent professors, famed authors and controversial intellectuals about the Classics. Covering history, mythology, music, philosophy and more!
Are the Humanities under attack? Are the Classics being Canceled? And if so, how and why should we come to its defense?

We live in an era that frequently questions the utility and benefit of classical education and a liberal arts core curriculum—a mode of education that has nourished the minds of men and women for thousands of years. As these criticisms gain traction in our public square, it feels like we're at an inflection point.

What is the future of the humanities in general, and the classics in particular? How inclusive can they be? Is the Greco-Roman world still relevant today?

Dr. Eric Adler, a classist at the University of Maryland and author of "Battle of the Classics," recently published by Oxford University Press, discuss these questions and more, along with Anya Leonard, founder and director of Classical Wisdom and Alexandra Hudson, curator of Civic Response..

Together they explore the weaknesses of modern defenses of the humanities, including an over reliance on the "critical thinking" they build.

They also discuss the best contemporary criticisms of the classics, including that they are overly "Western-centric." We will also discuss thoughtful ways to approach these concerns, including the possible utility of a "living" and perhaps more omni-cultural, core that reads Western texts alongside Eastern literature.

This event is in partnership with Classical Wisdom, and online platform that provides commentaries and opinions on Ancient Greek and Latin literature, and Civic Renaissance, a publication and intellectual community dedicated to the wisdom of the past, beauty, goodness and truth.

https://classicalwisdom.com​

https://www.civic-renaissance.com​

You can purchase Eric's Book here: https://www.amazon.com/Battle-Classics-Nineteenth-Century-Debate-Humanities/dp/0197518788