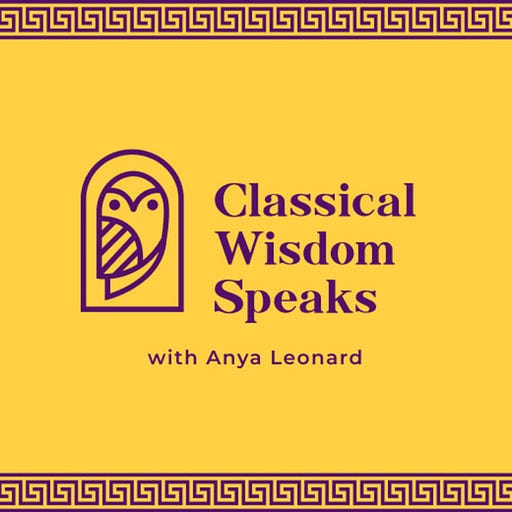 Mar 4, 2021 • 36M
Ancient Music with Spencer Klavan
Classical Wisdom Speaks aims to bring ancient wisdom to modern minds... via podcasts! You can watch all our podcasts on our youtube channel here: https://www.youtube.com/c/classicalwisdom Join host Anya Leonard as she speaks with eminent professors, famed authors and controversial intellectuals about the Classics. Covering history, mythology, music, philosophy and more!
What does Taylor Swift have to do with Ancient Greek Music? What role did it play in the ancient world? And if we listened to it properly, would we actually like it???

It's time to discover the fascinating world of ancient music...

This Classical Wisdom Speaks podcast is with Spencer Klavan, host of the Young Heretics podcast, assistant editor of the Claremont Review of Books and The American Mind, and author of Music in Ancient Greece: Melody, Rhythm, and Life.
We discuss the role music played in the ancient world, the new discoveries that have been found in this previously mysterious field, as well as the fascinating intersection between music, cosmology and education.
Additional Note from Spencer: The Mesomedes hymns were published in 1581 by Vincenzo Galilei. I believe I said that the documents of ancient greek music notation have been around since the 18th century. They've actually been around longer than that--modern scholars have known about them since the 16th century, but many of them weren't discovered until the 18th century.
CORRECTION: Spencer's book is now Available!
You can get Spencer's Book, Music in Ancient Greece: Melody, Rhythm, and Life, here: https://www.bloomsbury.com/uk/music-in-ancient-greece-9781350119949/
For more information about Classical Wisdom's Podcast Classical Wisdom Speaks, please check out our website at: http://classicalwisdom.com​​​

Get our recent Magazine - dedicated to Ancient Music - with our Classical Wisdom Litterae Magazine subscription Here: https://classicalwisdom.com/product/classical-wisdom-litterae-magazine-subscription/

Rediscovering Ancient Music: https://www.youtube.com/watch?v=4hOK7bU0S1Y