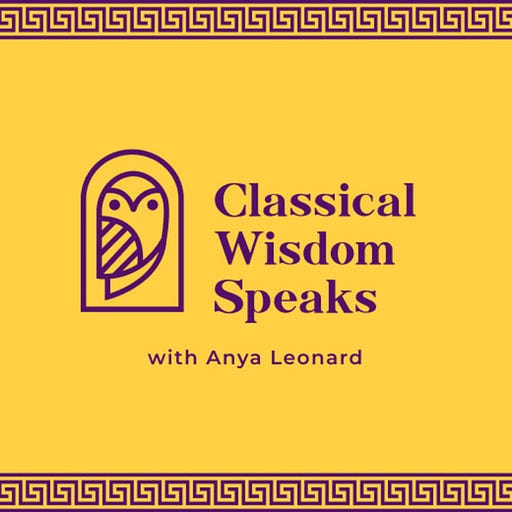 Apr 7, 2021 • 30M
Can We Find Stoic Joy? With William B. Irvine
Classical Wisdom Speaks aims to bring ancient wisdom to modern minds... via podcasts! You can watch all our podcasts on our youtube channel here: https://www.youtube.com/c/classicalwisdom Join host Anya Leonard as she speaks with eminent professors, famed authors and controversial intellectuals about the Classics. Covering history, mythology, music, philosophy and more!
Can we experience Stoic Joy? Why has there been a dramatic change in how we perceive Stoicism? And how can the ancient philosophy reduce stress and anxiety as well as help us achieve our goals?

This week's Classical Wisdom Speaks Podcast is with William B. Irvine, Professor of Philosophy at Wright State University in Dayton, Ohio. Author of seven books, including The Stoic Challenge, and A Guide To The Good Life: The Ancient Art of Stoic Joy.

If you would like to learn more about Dr. Irvine's books, includingThe Stoic Challenge and A Guide to the Good Life, please look at his website: williambirvine.com/

For more information about Classical Wisdom's Podcast Classical Wisdom Speaks, please check out our website at: http://classicalwisdom.com​​​​

Learn more about our upcoming Stoic ESSAY Competition here: https://classicalwisdom.com/stoicism-essay-competition/

Get our Classical Wisdom Magazine - dedicated to new exciting themes each month - check out our subscription special Here: https://classicalwisdom.com/product/classical-wisdom-litterae-magazine-subscription/

*Please note, this podcast was originally recorded in 2019, before the pandemic.