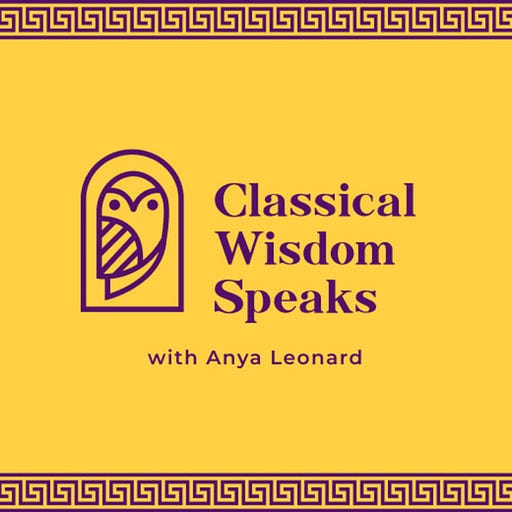 Oct 11, 2020 • 34M
Ancient Art: Mummies, Fake Sculptures and Beheaded Emperors... with Lisa Anderson Zhu
Classical Wisdom Speaks aims to bring ancient wisdom to modern minds... via podcasts! You can watch all our podcasts on our youtube channel here: https://www.youtube.com/c/classicalwisdom Join host Anya Leonard as she speaks with eminent professors, famed authors and controversial intellectuals about the Classics. Covering history, mythology, music, philosophy and more!
Ancient Mummy Glamour shots, a Minoan scandal everyone should be talking about, the Baltimore painter, Elephants on sarcophagi and the funny history of behead statues...

These are just a few of the fascinating pieces discussed with Lisa Anderson-Zhu, the Associate Curator, Art of the Mediterranean, 5th millennium BCE to 4th century CE at the The Walters Art Museum, in Baltimore, Maryland. Links to all the pieces mentioned below.
You can listen to Lisa Anderson-Zhu LIVE in Classical Wisdom's upcoming Symposium 2020: Power and Politics, taking place October 24 - 25, 2020.

You can purchase early bird tickets, as well as an exclusive Mediterranean Wine Collection, carefully selected for the event, HERE: http://www.bonnerwine.club/CWW
*Wine option ends October 13th.

For more information about Classical Wisdom's Podcast Classical Wisdom Speaks, please check out our website at: http://classicalwisdom.com

Pieces Mentioned:

Baltimore Painter Vase https://art.thewalters.org/detail/30814/volute-krater/
The Minoan Statuette https://art.thewalters.org/detail/25734/goddess-or-priestess/
Artemis-Aphrodite https://art.thewalters.org/detail/22879/torso-of-artemis-with-head-of-aphrodite/
Marcus Aurelius https://art.thewalters.org/detail/10416/portrait-of-the-emperor-marcus-aurelius/
...and his former torso https://art.thewalters.org/detail/90260/
Augustus https://art.thewalters.org/detail/767/portrait-of-emperor-augustus/
Sarcophagus with the Triumph of Dionysus https://art.thewalters.org/detail/33305/sarcophagus-with-the-triumph-of-dionysus/
Funeral Stele of Antaios Meilesios https://art.thewalters.org/detail/30157/funeral-stele-2/
Mummy Portrait with the Gold Necklace https://art.thewalters.org/detail/30478/mummy-portrait-of-a-woman-from-fayum-egypt/
Mummy Portrait of a Bearded Man https://art.thewalters.org/detail/7962/mummy-portrait-of-a-bearded-man/

More information on the Walters Museum can be found at @walters_museum